We are your one-stop service provider for washroom hygiene care.
Our Services
About Rental
Established in 2002, Rental has been developing and providing total hygiene systems since its establishment. We strive to safeguard public health by creating comprehensive lines of washroom equipment to ensure the cleanliness and hygiene of washrooms serving the general public.
Rental Hygiene has distinguished itself as a service-orientated company which focuses on customers' needs. We ensure a transparent structure within our organization, whereby account management, development and production work teams closely together. This ensures our capability to respond quickly to changes in the customers' requirements.
For household consumers, please visit www.rentalhygieneservices.com for our products.
  Contact us today
(65) 6481 1300
  We are open
Mon-Fri : 9am-6pm
Sat : 9am-1pm
Air Freshener Hygiene Service
Rental air fresheners neutralise malodours and add a nice fragrance to the environment. It results a clean, hygienic and fresher environment for the general public and customers.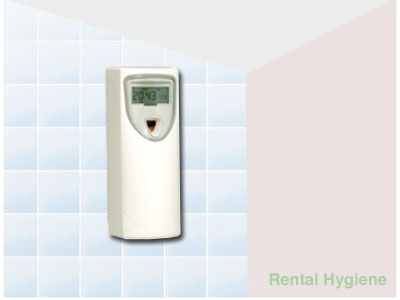 Feminine Sanitary Hygiene Service
Rental offers a safe and reliable sanitary disposal service for your feminine sanitary hygiene needs, raising the hygiene standards of your washroom as well as results in the comfort and convenience of the user.